Dye Brings Expertise Back to Marsh Foundation to Provide Clinical Care for Foster Children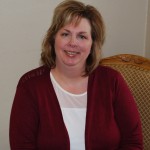 VAN WERT, Ohio – Beth Dye, LSW, has been a licensed social worker in Ohio for more than 25 years. After obtaining her bachelor's degrees in social work and psychology from at the University of Bluffton, she originally began her career at The Marsh Foundation and worked there for three years before a programming change. Now, she has been rehired as a foster care clinical provider at The Marsh.
"I am thrilled to once again be working with kids. Children and youth are always where my heart has been," Dye said. "I went into the field of social work to be able to work with people. I enjoy supporting others as they grow and become successful in whatever they chose to do."
The foster care and adoption division at The Marsh Foundation continues to grow in order to meet the increasing number of children in care. Because trauma is common with children in foster care, the clinical component of the program continues to be extremely important. "Many of the children we serve have suffered from neglect or various forms of abuse," said Kim Mullins, executive director of Child and Family Services at The Marsh. "Because of that, we put a strong emphasis on counseling within all of our programs."
Dye said that she is excited to be a part of the growth of the program at The Marsh. "Life can be tough, and often we are not aware of just what others have experienced or are experiencing. I especially like being an advocate for someone who doesn't have a voice," she said. "It is important to let people know that there is someone on their side, who will listen to their concerns and then help them achieve their goals. Everyone needs to know that there is someone in their corner."
Dye brings with her several years of experience as a medical/hospice social worker at Community Health Professionals. She and her husband, Kelly, have twin daughters Claire and Katie. "The Marsh Foundation is a very important part of Van Wert's history and their services and outreach to youth and their families is exceptional.  I have many good memories of working here years ago and am   happy to be a part of the Marsh family once again," Dye added.
The Marsh Foundation is a not-for-profit children's services agency that provides services in a variety of settings. Services include group homes, family foster care (ages 0-17), an intensive treatment program, adoption and independent living. Located in Van Wert, Ohio, the organization's group homes are licensed for up to 36 children ages 7 – 17, offers an on-campus school for grades 2 – 12 and provides a variety of clinical services to group home residents, foster care children and community members.
###
Photo caption: The Marsh Foundation has hired Beth Dye, LSW, as a foster care clinical provider.