Marsh Foundation Youth Hosting Annual Poinsettia Sale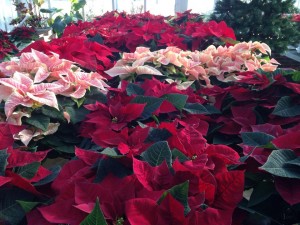 VAN WERT, Ohio –   Youth at The Marsh Foundation are once again selling poinsettias for the holiday season. All proceeds from the sale will go to the campus' Marsh Grown gardening program. The plants make beautiful decorations and/or holiday gifts.
There are three sizes available. The multi-bloom plants are available in 4.5 inches for $3.50, 6.5 inches for $8 and 8.5 inches for $15. The 4.5" plant is available in red, white or pink. The 6.5" and 8.5" plants are available in red, white, pink, burgundy, marble (pink and cream) or jingle bells (red with white speckles). All proceeds will go to the Marsh Grown program for The Marsh Foundation youth. Orders must be placed before Thursday, Nov. 16 and can be picked up on Saturday, Dec.9 from 10 a.m. – 1 p.m. at The Marsh Foundation Greenhouse
To order, complete an order form found online at www.marshfoundation.org, visit The Marsh's Facebook page at www.facebook.com/MarshFoundation. Or, call Sherry Grone at 419.238.1695 ext. 270 for more information.
The Marsh Foundation is a not-for-profit children's services agency that provides services in a variety of settings. Services include group homes, family foster care (ages 0-17), an intensive treatment program, adoption and independent living. Located in Van Wert, Ohio, the organization's group homes are licensed for up to 36 children ages 7 – 17, offers an on-campus school for grades 2 – 12 and provides a variety of clinical services to group home residents, foster care children and community members.
###
Photo caption: The Marsh Foundation youth are hosting their annual poinsettia sale. Orders are due November 16.
Print an order form HERE.

Save