Generous Donors Make Easter Even More Special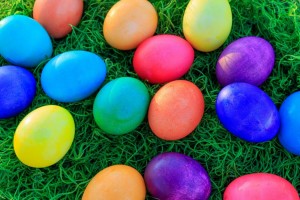 Again this year, an egg hunt was the highlight of Easter weekend on The Marsh Foundation Campus. It was all made possible by the Shirley Haight family, who sponsored the festivities for the seventh straight year.
Haight's daughter, Cindy Henderson, went above and beyond again this year to make Easter even more special for youth currently residing at The Marsh Foundation.
This has become a tradition on campus that the youth thoroughly enjoy and the staff appreciates immensely. "The donations we receive from the Haight family make a dramatic impact on the kids we serve," said Kim Mullins, executive director of Child & Family Services at The Marsh Foundation. "It has become an event that the entire campus looks forward to excitedly."
The family's generosity and creativity are always above par and this year was no different. In addition to decorated boxes containing gifts for each child, there were bags and fabric markers sent so that each child could decorate a bag and make it their own.
"They think of all the details and their generosity each year makes Easter an extra special holiday on our campus."
In the 1940s, Shirley Haight came to live at The Marsh. Now, her daughters and grandson continue to give back to the campus at Easter time. The family provided eggs, baskets and gifts for all of the youth on campus. Although Haight passed away in 1988, her family has made a tradition out of donating. It was a memorable day and enjoyed tremendously by Marsh Foundation youth.
Save
Save
Save
Save