Marsh Holds Panel During Women's History Month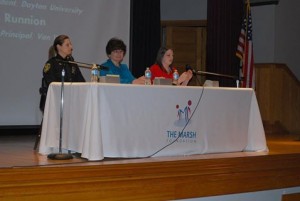 Earlier this spring, the cultural diversity committee at The Marsh Foundation organized two guest panels during Women's History Month. The focus was women in the workforce and featured females in traditionally male dominated fields.
The two panels featured professional women in our own community and included: Officer Brandi Dershem, Van Wert Police Department; Erin Patterson, Engineering Student; Beth Runnion, Retired School Principal; Judge Jill Leatherman, Van Wert Municipal Court; Eva Yarger, Van Wert County Prosecutor; and Cindy Hurless; Customer Services VP, Central Insurance Companies.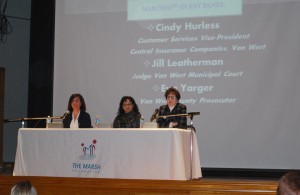 Staff had the opportunity to listen to the panel answer various questions regarding their experiences in the workplace and how their gender has played a part in their career paths. In addition to pre-written questions, audience members also had a chance to ask their own. The educational opportunity received positive feedback both from staff and panel members. Hurless, Central Insurance's Vice President of Customer Services, thought that it was a worthwhile experience that gave her the chance to share her life path with others.
"It's important for women to share their career path stories with others. Not just women but with men too. While we are similar – men and women have differences in approach and leadership styles that create solid and diverse workplaces. I think my daughters as well as my sons have benefitted from watching me pursue my professional passions," Hurless said.
She went on to say that there is now more diversity and equality in the workplace. "I think we are raising a generation of women and men that respect their peers abilities and talents – regardless of gender," she added.
Her favorite question of the day was 'can women have it all?' And, the panel's answer was a resounding 'no'!
"There are choices and priorities to contemplate and there are always trade-offs. Women spend too much time apologizing (in my opinion) for the choices we make," she concluded.
The cultural diversity committee at The Marsh works hard to feature workshops throughout the year that focus on different populations each time.
Save