Closet 1:27 Connects with Marsh Foster Care Program
[caption id="attachment_842" align="alignright" width="300"]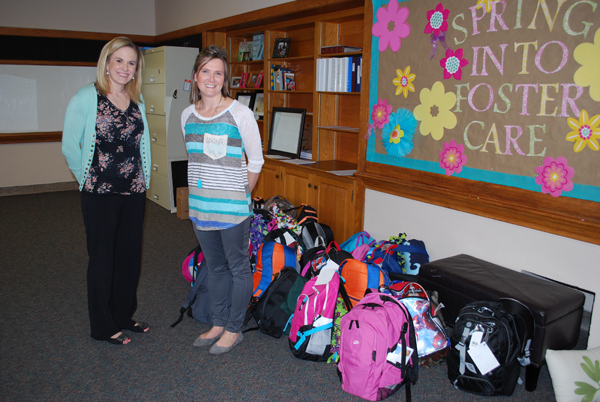 Pictured is Melissa Gearhart (left) foster care supervisor, with Kayla Bagley from Closet 1:27 and their donation of foster journey bags.[/caption]
VAN WERT, Ohio – Closet 1:27 is an initiative operated by Woodburn Missionary Church in Woodburn, IN. The ministry provides support and supplies for Christian adoptive and foster families. They learned of The Marsh Foundation's need through one of our own foster families.
Closet 1:27 provides two main services for adoptive and foster families: foster journey bags and its resource closet. They recently delivered 28 journey bags to give to Marsh foster youth. The bags are filled according to gender and age and include things like pajamas, blankets, books, toiletries, a Bible and much more.
"We are thrilled that Closet 1:27 has reached out to The Marsh Foster Care Program," said Melissa Gearhart, foster care supervisor. "Our kids often come into care with little that belongs to them and this program gives them something that they can call their own. Plus, the items in the bags are quality, useful items that are very much appreciated by our kids and our foster parents."
According to Closet 1:27, the foster journey bags are meant to help foster children feel the love and concern of others, and introduce them to, or remind them of the love of their Heavenly Father.
The Marsh Foundation is looking forward to distributing these bags to foster children. The Marsh is currently placing children ages 0-18 in local foster homes. Families that are interested in becoming licensed as foster or adoptive homes can contact Gearhart at 419.238.1695 ext. 307.
The Marsh Foundation is a not-for-profit children's services agency that provides behavioral treatment in a variety of settings. Services include group homes, family foster care, an intensive treatment program and independent living. Located in Van Wert, Ohio, the organization's group homes are licensed for up to 36 children ages 7 – 17, offers an on-campus school for grades 2 – 12 and provides a variety of clinical services to group home residents, foster care children and community members.
###
Photo caption: Pictured is Melissa Gearhart (left) foster care supervisor, with Kayla Bagley from Closet 1:27 and their donation of foster journey bags.
Save
Save