Family Becomes Complete Just in Time for the Holidays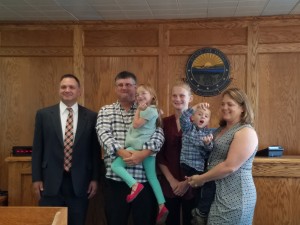 VAN WERT, Ohio – In 2014, Rob and Jennifer Sniegowski decided to pursue a foster care license with The Marsh Foundation. They were interested in growing their family and giving their daughter, Abigail, a younger sibling.
After months of waiting, they were blessed two-fold with what has turned out to be a perfect match. In October of 2014, Kali and Allen were placed in their home as foster children. Excited beyond belief, the family immediately bonded and accepted the two children, then ages 4 and 3, as their own.
It was determined that the two would not be able to return to their biological home and were made available for adoption. The Sniegowskis didn't hesitate and began preparation to adopt the children.
Two years later, on October 4, 2016, Kali and Allen, ages 6 and 5, were officially adopted by Rob and Jennifer and found their forever family.
Congratulations and best wishes to the Sniegowski family! It will certainly be a wonderful holiday season in their home this year!
Because of this story, and others like it, The Marsh Foundation has pursued the ability to license homes with a dual foster care and adoption license.  This means that families that may be interested adopting their foster children in the future can simplify the process with The Marsh Foundation.
"Now, when we conduct our home studies, we have the ability to give a home two licenses; one for fostering and one for adoption," said Melissa Gearhart, foster care supervisor. This simplifies the process, allowing The Marsh's home study assessors to conduct adoption home studies and complete the necessary paperwork. Before, those things had to be done by an outside agency. Now, the process is simplified because The Marsh can facilitate the entire adoption process.
"This definitely allows us to provide additional support to our families," Gearhart said. Families that think they may be interested in adoption can complete the necessary steps up front, with very little additional work. If they decide to adopt in the future, much of the process is already done. If they don't ever decide to adopt, there is no harm in having the dual license.
Many families that are interested in becoming foster families are interested in accepting young children that may be available for adoption in the future; just as in the Sniegowski's case. It is the hope of The Marsh Foundation that providing these dual licenses will allow them to serve more children and families.
"This is really an asset to our foster care division," Gearhart stated. "It dramatically increases the number of children we can help to find forever families."
The Marsh Foundation is a not-for-profit children's services agency that provides behavioral treatment in a variety of settings. Services include group homes, family foster care, an intensive treatment program and independent living. Located in Van Wert, Ohio, the organization's group homes are licensed for up to 36 children ages 7 – 17, offers an on-campus school for grades 2 – 12 and provides a variety of clinical services to group home residents, foster care children and community members.
###
Photo caption: Rob and Jennifer Sniegowski took in Kali and Allen as foster children in 2014. On October 4, 2016, the two officially became members of their family when their adoption was finalized.