Marsh Foundation Hires New Foster Care Supervisor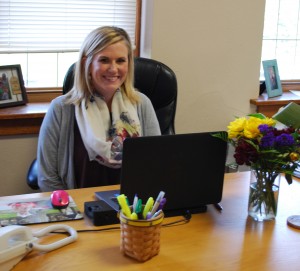 VAN WERT, Ohio – The Marsh Foundation has hired Melissa Gearhart, LSW, as the agency's new supervisor of its foster care division. Gearhart will oversee consultation, recruitment, licensing and maintenance of The Marsh's foster care program.
Gearhart holds a bachelor's degree in social work from Defiance College and is a Licensed Social Worker. After beginning her career at The Marsh as a family teacher in the residential group home program, she went on to serve as a foster care consultant at Adriel for nearly five years.
"Over the past several years, foster care has been my passion. I love connecting kids to families as well as connecting these families to kids. I am so excited to be able to do this back in my hometown," Gearhart said.
She said that she is looking forward to her new position. "My goal here at The Marsh Foundation is to grow our foster program to not only be able to help a wider variety of kids, but also to be able to offer our foster families a bigger network of support and services. We already have many exciting things in the works for the foster program and I can't wait to see them take shape," Gearhart added.
Originally from the Van Wert area, Gearhart is a Lincolnview High School graduate. She enjoys spending her time away from work with her two-year-old daughter, Elliot.
The Marsh Foundation is a not-for-profit children's services agency that provides behavioral treatment in a variety of settings. Services include group homes, family foster care for children 0-18, an intensive treatment program and independent living. Located in Van Wert, Ohio, the organization's group homes are licensed for up to 36 children ages 7 – 17, offers an on-campus school for grades 2 – 12 and provides a variety of clinical services to group home residents, foster care children and community members.
The mission of The Marsh Foundation is to inspire hope, to teach and to care for children and families. For more information about The Marsh, visit www.marshfoundation.org.
###
Photo caption: Melissa Gearhart was recently hired by The Marsh Foundation as their new supervisor of foster care.