Project Believe Donates Christmas Presents to Youth at The Marsh Foundation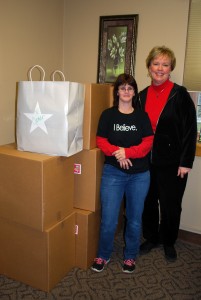 VAN WERT, Ohio – For the fourth year in a row, Project Believe has helped to make Christmas a little brighter for youth at The Marsh Foundation. The organization, which originated in 2007, has grown from serving 10 kids at Christmas to more than 200 at seven facilities in two states.
Tammie Rafferty, the group's founder, was inspired to help others by her own daughter's circumstances. Their mission is to enrich the lives of youth and their caregivers in residential treatment centers. They provide gifts at Christmas, Valentine's Day, Easter and back-to-school time at various facilities.
Christmas gifts include things like pajamas, blankets, books, board games, art sets and journals. Each group home also received a bag of items to share among the house and staff were treated to homemade cookies.
This year, two Marsh Foundation employees decided to attend the organization's wrap party and help organize and wrap donated gifts. "It was a spur of the moment decision," said Julie Hess, Senior Hall Program Manager. She and Naomi Robertson were in the area visiting another youth and decided it was a stop they should make. "We were so glad that we were able to attend and had a great time. It was awesome to be able to give back a little to an organization that has helped us and our kids so much," Hess said.
You can learn more about Project Believe by visiting their website at www.projectbelive.net. Or, you can contact Rafferty directly at .
The Marsh Foundation is a not-for-profit children's services agency that provides behavioral treatment in a variety of settings. Services include group homes, family foster care, an intensive treatment program and independent living. Located in Van Wert, Ohio, the organization's group homes are licensed for up to 36 children ages 7 – 17, offers an on-campus school for grades 2 – 12 and provides a variety of clinical services to group home residents, foster care children and community members.
The mission of The Marsh Foundation is to inspire hope, to teach and to care for children and families. For more information about The Marsh, visit www.marshfoundation.org.
###
Photo caption: (L to R) Minda Springer, Project Believe board member is pictured with Kim Mullins, Marsh Foundation Executive Director of Child and Family Services in front of Clymer Hall's Christmas gifts.