The Marsh Foundation Awarded Three-Year CARF Accreditation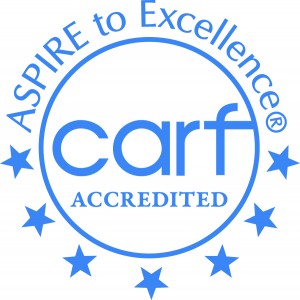 VAN WERT, Ohio – CARF International recently announced that The Marsh Foundation has been reaccredited for a period of three years for its Case Management/Services Coordination: Mental Health (Children and Adolescents); Outpatient Treatment: Mental Health (Adults); and Outpatient Treatment: Mental Health (Children and Adolescents) programs. The latest accreditation is the fourth consecutive Three-Year Accreditation that the international accrediting body has awarded to The Marsh Foundation.
This accreditation decision represents the highest level of accreditation that can be awarded to an organization and shows the organization's substantial conformance to the CARF standards. An organization receiving a Three-Year Accreditation has put itself through a rigorous peer review process and has demonstrated to a team of surveyors during an on-site visit that its programs and services are of the highest quality, measurable and accountable.
Some of The Marsh's strengths, as noted by CARF, are:
"The staff members of The Marsh Foundation demonstrate clear dedication and passion in providing quality services to the children and families served. All staff members go above and beyond to meet the needs of the organization and the persons served."
"The Marsh Foundation provides a safe environment to the persons served that is very welcoming, clean, and comfortable."
"Staff members consistently focus on empowerment, recovery, wellness, and healing in the lives of the persons served and their families. The persons served are treated with dignity and respect."
CARF International is an independent, nonprofit accreditor of health and human services. The mission of CARF is to promote the quality, value, and optimal outcomes of services through a consultative accreditation process and continuous improvement services that center on enhancing the lives of the persons served. Founded in 1966, CARF assists service providers in improving the quality of their services, demonstrating value, and meeting internationally recognized organizational and program standards. More information about CARF International can be found at www.carf.org.
Serving children and families since 1922, The Marsh Foundation is a not-for-profit children's services agency that provides behavioral treatment in a variety of settings. Services include group homes, foster care, an intensive treatment program and independent living. Located in Van Wert, Ohio, the organization's group homes are licensed for up to 36 children ages 7 – 17, offers an on-campus school for grades 2 – 12 and provides a variety of clinical services to group home residents, foster children and community members.
The mission of The Marsh Foundation is to inspire hope, to teach and to care for children and families. For more information about The Marsh, visit www.marshfoundation.org.
###