Project Believe Donates Christmas Presents to Youth at The Marsh Foundation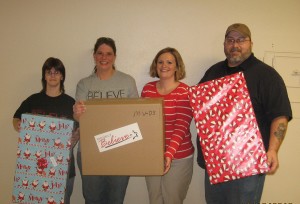 VAN WERT, Ohio –  For the second year in a row, Project Believe has helped to make Christmas a little brighter for youth at The Marsh Foundation. The organization, which originated four years ago, has continued to grow and now delivers hundreds of presents to children in Ohio.
Tammie Rafferty, the group's founder, was inspired to help others by her own daughter's circumstances a few years ago. Then, gifts were wrapped and sorted in her living room. This year, more than 100 volunteers gathered at a local school gymnasium to sort and wrap.
Gifts include things like pajamas, slippers, blankets, socks, gloves, books and other goodies. Each group home also received a bag of items like games and puzzles to share among the house.
"Donations like this mean a lot to our kids," said Dawn Berryman, marketing and public relations specialist. "Christmas is often a difficult time for those missing family and organizations such as Project Believe help to ease that. We are so excited to have established a relationship with such a generous and thoughtful organization."
You can learn more about Project Believe by visiting their website at www.projectbelive.net. Or, you can contact Rafferty directly at .
Serving children and families since 1922, The Marsh Foundation is a not-for-profit children's services agency that provides behavioral treatment in a variety of settings. Services include group homes, treatment and family foster care, an intensive treatment program and independent living. Located in Van Wert, Ohio, the organization's group homes are licensed for up to 30 children ages 7 – 17, offers an on-campus school for grades 2 – 12 and provides a variety of clinical services to group home residents, foster children and community members.
The mission of The Marsh Foundation is to inspire hope, to teach and to care for children and families. For more information about The Marsh, visit www.marshfoundation.org.
###
Photo caption: (L to R) Minda Springer, Tammie Rafferty and Matt Wunderlin (far right) from Project Believe present Christmas presents for Marsh Foundation youth to Dawn Berryman, marketing and public relations specialist at The Marsh Foundation.