The Marsh Foundation Unveils Advertising Campaign in Effort to Recruit Additional Foster Families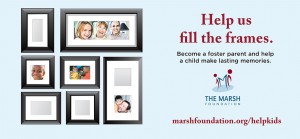 VAN WERT, Ohio – This fall, The Marsh Foundation is making a concerted effort to grow its Foster Care Program by recruiting more foster families. Throughout the state of Ohio, there are more than 22,000 children in the foster care system. Last year, The Marsh alone, turned away more than 100 kids because of a lack of placement options.
In an effort to serve more children, The Marsh Foundation has developed an advertising campaign to attract more families that can help care for these children. A video and television commercial are currently being viewed on area cable networks. The videos can also be viewed on The Marsh website at https://www.marshfoundation.org/about-us/video/.
In addition, billboards have been developed to draw attention to the fact that many children don't have parents to help them make normal, lasting childhood memories. "Foster parenting is filled with opportunities to care for children who can greatly benefit from the love and support of a family.  We are looking for people who can be good parents, not perfect parents, but good parents who are willing to share their home and family with a child in need," said Kim Mullins, executive director of Child and Family Services at The Marsh.
If you are interested in learning more about the opportunities to foster, visit https://www.marshfoundation.org/helpkids. By visiting the website, you can learn more about the basic requirements and the many rewarding benefits to fostering.  "If you know someone who is willing to consider sharing their home and family with a foster child, please encourage them to call or visit our web site.  We would very much like to answer questions or chat with anyone interested," said Mullins.
Serving children and families since 1922, The Marsh Foundation is a not-for-profit children's services agency that provides behavioral treatment in a variety of settings. Services include group homes, treatment and family foster care, an intensive treatment program and independent living. Located in Van Wert, Ohio, the organization's group homes are licensed for up to 30 children ages 7 – 17, offers an on-campus school for grades 2 – 12 and provides a variety of clinical services to group home residents, foster children and community members.
The mission of The Marsh Foundation is to inspire hope, to teach and to care for children and families. For more information about The Marsh, visit www.marshfoundation.org.
###
Photo caption: You may see The Marsh Foundation billboards in the tri-county area.