Marsh Foundation Garden Program Hosts Successful Poinsettia Sale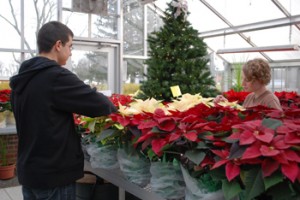 VAN WERT, Ohio – The Marsh Foundation 'Marsh Grown' garden program concluded for 2012 with the annual sale of poinsettias. The successful sale generated more than $500 in profits for the garden crew. A total of 147 plants were sold.
There were eight youth that participated in the sale and worked a total of 26 hours. Job responsibilities included sales, marketing, organizing orders, delivery and working the day of the open house at the greenhouse. Each member of the team will receive a check for their hours worked. In addition, one youth was presented with a small gift for being the top seller.
The Marsh Grown youth garden program is dedicated to helping young people develop a sense of land stewardship and learn the importance of healthy food. Participants are taught valuable gardening skills through-out the season. In addition, the program serves as a catalyst for youth to develop important job skills for future employment.
Participants in Marsh Grown garden crew are youth who are a part of The Marsh Foundation's Independent Living Group. They are all 15 ½ years of age or older and are working on skills that will help them be successful as adults. The garden program is an opportunity for them to interact with peers and adults, develop quality job skills and learn how to grow healthy food.
The group will also host a spring plant sale in May. For more information, please contact activities coordinator, Sherry Grone at 419.238.1695 ext. 270 or via e-mail at
The Marsh Foundation is a not-for-profit children's services agency that provides behavioral treatment in a variety of settings. Services include group homes, treatment and family foster care, an intensive treatment program and independent living. Located in Van Wert, Ohio, the organization's group homes are licensed for up to 30 children ages 7 – 17, offers an on-campus school for grades 2 – 12 and provides a variety of clinical services to group home residents, foster care children and community members.
###
Photo caption: Two members of the garden crew work to organize poinsettias before the Greenhouse Holiday Open House and poinsettia pick-up.