Experienced Staff Take on New Positions at The Marsh Foundation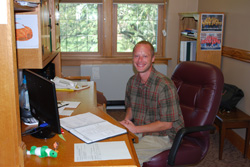 VAN WERT, Ohio – The Marsh Foundation has recently promoted two experienced family teachers. Rob Davis has taken the position of CPST and Kelly Gross is the new coordinator of admissions and training.
Davis has been employed at The Marsh for more than eight years. He's held the positions of family teacher, school family teacher and has also provided home-based services for some youth in the community.
Now, as community psychiatric support treatment worker, he is putting his experience working with the youth to work in a slightly different way. Family teachers spend their time, day to day, working on improving behaviors and building relationships.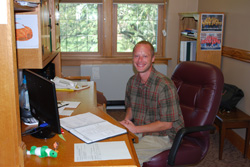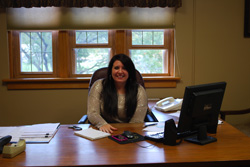 As a CPST, he's taking that to the next level and working on helping the youth build social skills and working their overall treatment goals. In this role, he is able to meet with youth one-on-one as well as in the group setting. He's also responsible for coordinating the monthly treatment team meetings for his clients.
"I'm excited to help youth in a new way," Davis said. "I'm thrilled to still be working with the youth but in a new way and in a different setting. I'm really looking forward to the one-on-one interaction and helping the youth complete their treatment goals," he added.
Davis holds a BA in psychology from Ohio State, and served as an ABA therapist for five-and-a-half years providing home based services and teaching at an academy before coming to The Marsh. He is originally from Van Wert and he and his wife Chris have a son Will, eight, and a daughter Lily who is six.
Kelly Gross has also been with The Marsh Foundation for eight years. She spent all of those years working inside the group homes with the youth as a family teacher.
Her new position as coordinator of admissions and training is allowing her to use that experience and knowledge of the youth The Marsh serves to further staff training opportunities and streamline the referral and intake process.
Gross' new responsibilities include coordinating all training for the Child and Family Services division at The Marsh. She is also the initial point of entry for all foster care and group home referrals. She handles coordination of the application process, assessments and the intake appointments for new youth.
"I love helping kids and I love that The Marsh is able to help find homes for those who don't have them," she said. "I'm excited to put a new twist on my skills and use them to help the kids in a different way," Gross added.
Originally from St. Mary's, Ohio, Gross studied psychology at the University of Toledo. She lives in Van Wert with her husband Dane and their two daughters, Katie, three and Lauren, seven months. She loves animals and has been riding four-wheelers since she was two.
Serving children and families since 1922, The Marsh Foundation is a not-for-profit children's services agency that provides behavioral treatment in a variety of settings. Services include group homes, treatment and family foster care, an intensive treatment program and independent living. Located in Van Wert, Ohio, the organization's group homes are licensed for up to 30 children ages 7 – 17, offers an on-campus school for grades 2 – 12 and provides a variety of clinical services to group home residents, foster children and community members.
The mission of The Marsh Foundation is to inspire hope, to teach and to care for children and families. For more information about The Marsh, visit www.marshfoundation.org.
###
Photo captions: Rob Davis is The Marsh Foundation's newest community psychiatric support treatment worker, while Kelly Gross has taken on the position of coordinator of admissions and training.