Nationally Known Speaker and Author Presents at The Marsh Foundation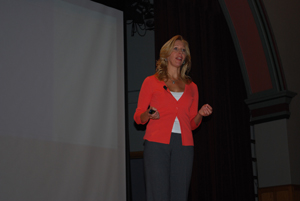 VAN WERT, Ohio – The Marsh Foundation recently hosted Heather T. Forbes LCSW, a nationally known speaker and author, for a daylong training entitled "Why Tokens Aren't Working: Helping Children with Difficult Behaviors." The seminar was a collaborative effort between Mercer County DJFS and the Western Ohio Regional Training Center through the Ohio Child Welfare Training Program. The training was provided as a free educational opportunity for parents and professionals and social work and counselor CEU hours were offered.
Forbes presents a method of working with children affected by trauma that is love based. "We often underestimate the impact of trauma on a child's development," Forbes said. "When children experience trauma, their internal survival mechanisms can become activated, dedicating all the body's resources to remain alert in "survival mode." They perceive the world as threatening. This state of fear and stress is often demonstrated through difficult, severe, and socially inappropriate behaviors," she said.
The event focused on understanding the child's point of view and included a lot of video clips, role-play and lectures to help understand how to work with these children. "Traditional behavioral techniques and therapies are not only ineffective for these children, but often escalate the intensity of the behaviors and drive them further away from parental relationships and from participating in treatment," Forbes said.
Forbes' "Beyond Consequences" approach is detailed in her three top selling books. "We want to give parents, teachers, and professionals the tools to help children not only change their behaviors, but to move them onto a path of deep healing," she said.
Forbes has a master's degree of social work from the University of Central Florida. She has authored "Dare to Love: The Art of Merging Science and Love into Parenting Children with Difficult Behaviors" and "Beyond Consequences, Logic and Control: A Love-based Approach to Helping Attachment-Challenged Children with Severe Behaviors" Volumes 1 and 2, among others. To learn more about her and her approach, visit www.beyondconsequences.com.
Serving children and families since 1922, The Marsh Foundation is a not-for-profit children's services agency that provides behavioral treatment in a variety of settings. Services include group homes, treatment and family foster care, an intensive treatment program and independent living. Located in Van Wert, Ohio, the organization's group homes are licensed for up to 30 children ages 7 – 17, offers an on-campus school for grades 2 – 12 and provides a variety of clinical services to group home residents, foster children and community members.
The mission of The Marsh Foundation is to inspire hope, to teach and to care for children and families. For more information about The Marsh, visit www.marshfoundation.org.
###
Photo caption: Heather T. Forbes LCSW, presents at The Marsh Foundation on her "Beyond Consequences" approach to dealing with children with difficult behaviors.