Deputy Director of ODJFS Visits The Marsh Foundation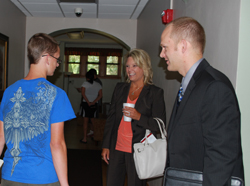 VAN WERT, Ohio – On Thursday, Jennifer Justice, the deputy director of the Ohio Department of Job and Family Services (ODJFS) visited The Marsh Foundation in Van Wert. She made the trip along with Mark Mecum, the executive director of the Ohio Association of Child Caring Agencies (OACCA) in an effort to further familiarize themselves with the private agencies that are serving children in the state of Ohio.
"We were thrilled to have Jennifer and Mark on campus," said Kim Mullins, executive director of Child and Family Services at The Marsh. "It was a great opportunity to talk about the services The Marsh Foundation provides and to discuss the challenges facing many of the children and families we serve. They also gave us the chance to ask questions and learn more about activities happening on the state level."
The visit included a tour of campus and a conversation over lunch about how private and public agencies can work together more closely and better meet the needs of children and families. According to Mullins, The Marsh, which is licensed through ODJFS, continually works to stay abreast of state policies and happenings. "This was a great way for Jennifer and ODJFS to broaden the lines of communication and reach out to agencies in different parts of the state," she said.
The Marsh is also a member of OACCA. The association's mission is to promote and strengthen a fully integrated, private/public network of high quality services for Ohio's children, youth, and their families through advocacy, education and support of member agencies. The Marsh regularly takes advantage of OACCA conferences and training opportunities.
Serving children and families since 1922, The Marsh Foundation is a not-for-profit children's services agency that provides behavioral treatment in a variety of settings. Services include group homes, treatment and family foster care, an intensive treatment program and independent living. Located in Van Wert, Ohio, the organization's group homes are licensed for up to 30 children ages 7 – 17, offers an on-campus school for grades 2 – 12 and provides a variety of clinical services to group home residents, foster children and community members.
The mission of The Marsh Foundation is to inspire hope, to teach and to care for children and families. For more information about The Marsh, visit www.marshfoundation.org.
###
Photo caption: Jennifer Justice, the Deputy Director of ODJFS, and Mark Mecum, the executive director of OACCA, toured The Marsh Foundation campus on Thursday. They were able to meet several staff and youth.