Marsh Foundation Holds Spring Celebration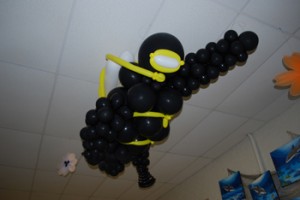 VAN WERT, Ohio - The Marsh Foundation School held its annual spring celebration on Friday, May 25. The day included piano recitals, a musical production of The Wizard of Oz, an awards program and a luncheon. In addition, two students were honored for receiving their high school diploma; one from Lincolnview Local Schools and another from Spencerville.
Many of the youth's friends and families, as well as community members joined in the celebration. More than 30 students were honored for their accomplishments throughout the school year.
Everyone in attendance got a special treat when they visited the basement for the luncheon celebration. The hallway was decorated in an under the sea adventure, complete with paintings, balloon octopuses and even an over-sized scuba diver.
The youth had completed the underwater paintings in art class. The octopuses and scuba diver were a production of a special balloon workshop conducted by Tammy Corzine, owner of Celebrations in Delphos. Corzine visited The Marsh School the week prior to the spring celebration and spent class time with each youth. She taught them how to inflate, shape and create creatures out of balloons.
In addition, each of the three classes worked to create part of the large scuba diver. It was a fun, and interactive experience. Marsh School art teacher, Karla Hoying, was excited to expose her students to yet another type of art. "The students learn about painting, drawing, glass and many types of art, but I thought this would be something a little different," she said.
Serving children and families since 1922, The Marsh Foundation is a not-for-profit children's services agency that provides behavioral treatment in a variety of settings. Services include group homes, treatment and family foster care, an intensive treatment program and independent living. Located in Van Wert, Ohio, the organization's group homes are licensed for up to 30 children ages 7 – 17, offers an on-campus school for grades 2 – 12 and provides a variety of clinical services to group home residents, foster children and community members.
The mission of The Marsh Foundation is to inspire hope, to teach and to care for children and families. For more information about The Marsh, visit www.marshfoundation.org.
###