Marsh Foundation to Build New Fitness and Dining Facility
VAN WERT, Ohio – Today, The Marsh Foundation Trustees and Directors broke ground in conjunction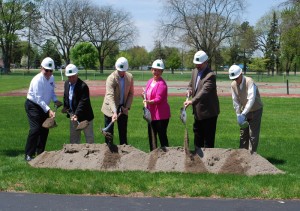 with Peterson Construction on a new fitness and dining facility. The new building will be connected to and located northwest of the Administration Building on their campus in Van Wert.
The 15,000-foot structure will house a gymnasium, locker rooms, restrooms, kitchen, dining area, staff offices and storage areas. Jeff Grothouse, executive secretary and treasurer, acknowledged the legacy of The Marsh family. "I believe it is appropriate to thank George, Hilinda and Katie Marsh for their vision of The Marsh Foundation in the early 1900s," he said. "It is also appropriate to thank all past and present Trustees for their wisdom, guidance, service and stewardship to The Marsh Foundation.  Their foresight and fiscal planning made this project possible," Grothouse continued.
Director of The Marsh School, Robbie Breese, noted that the new facility will help accomplish many Marsh Foundation goals. "This project will help us expand the services that we provide to our youth and create more flexible learning spaces to help meet their varying needs," he said. Breese also noted the increase in handicap accessibility as well as better fitness opportunities for both youth and staff.
"The number of Ohio youth that are in need of services is consistently growing," Breese said. "This addition to our campus will put us in a position to be able to serve more children and families in need."
Perhaps most importantly, Fanning Howey Architecture has been able to design a structure that will not only have a modern interior but match the style and majesty of the existing buildings on campus on the exterior. "Maintaining the integrity of our historical campus was extremely important to all of us as we went through this process," said Kim Mullins, executive director, Child and Family Services. "I believe the end result is something that The Marsh family and all of our alumni will be proud of."
Construction is expected to last a minimum of 12 months with occupancy expected by early to mid-summer of 2020.  Future plans include renovation of the newly vacated space in the basement of the Administration Building into a fitness center with space for cardio equipment, weight lifting and aerobic exercise.
The Marsh Foundation is a not-for-profit children's services agency that provides services in a variety of settings. Services include group homes, family foster care (ages 0-17), an intensive treatment program, adoption and independent living services. Located in Van Wert, Ohio, the organization's group homes are licensed for up to 30 children ages 7 – 17, offers an on-campus school for grades 2 – 12 and provides a variety of clinical services to group home residents, foster care children and community members.
###
Photo caption: Marsh Foundation Trustees and Directors break ground for the new fitness and dining facility; (l to r): Bob Gamble, Gary Clay, Robbie Breese, Kim Mullins, Jeff Grothouse and Gary Corcoran.