Marsh Foundation Auditorium Renamed in Honor of Past Director, Ron Bagley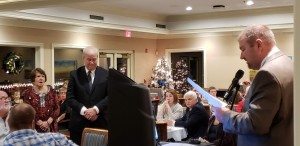 VAN WERT, Ohio – A surprise announcement was made at the 2018 Marsh Foundation Christmas party when the Administration Building's auditorium was renamed Bagley Auditorium. The name change is in honor of past director, Ronald R. Bagley.
Bagley was born November 26, 1937. On July 1, 1962 he was employed at The Marsh Foundation at the age of 25 as a teacher. On June 23, 1972, he was named Director of The Marsh Foundation School where he served until his resignation on August 23, 1991. This capped 29 years of employment with The Marsh.
Bagley currently volunteers to serve as the official Marsh Historian and has starred in various videos and historical documentaries about The Marsh Foundation.
"I believe Ron has an incredible respect for Mrs. Hilinda Marsh and her Christian life and values," said Jeff Grothouse, executive secretary/treasurer.  "Mr. Bagley has the undeniable and much deserved respect of the Marsh Alumni and students that were in his care." So much appreciation that they presented Bagley with a plaque at the 2015 Marsh Alumni Reunion stating this.
There is no greater purpose in this life than to change the life of a child for the better. Bagley has lived his entire life for this purpose.
The Marsh Foundation recognizes both Ron and Linda Bagley for their service to mankind and to The Marsh Foundation.  On Thursday, November 29, 2018, The Trustees of The Marsh Foundation by unanimous vote – changed the name of The Marsh Auditorium to "Bagley Auditorium." From this date forward, all correspondence, events, mailings will refer to The Marsh Foundation's "Bagley Auditorium."   The first event to be held in the new Bagley Auditorium was the winter program and graduation last week.
"I am humbled and honored to be the one selected to represent all of the dedicated and hard-working staff members at The Marsh Foundation Home and School," Bagley said of the announcement.
Congratulations Ron and Linda, and thank you for your commitment and years of service to The Marsh!
The Marsh Foundation is a not-for-profit children's services agency that provides services in a variety of settings. Services include group homes, family foster care (ages 0-17), an intensive treatment program, adoption and independent living. Located in Van Wert, Ohio, the organization's group homes are licensed for up to 36 children ages 7 – 17, offers an on-campus school for grades 2 – 12 and provides a variety of clinical services to group home residents, foster care children and community members.
###
Photo caption: Mr. Ron Bagley, past director of The Marsh Foundation School, and his wife Linda were surprised to learn at the recent Marsh Christmas party that the auditorium in the Administration Building has been renamed Bagley Auditorium in honor of his lifelong service to the organization.