New Marsh Foundation Foster Care & Adoption Center to Hold Grand Opening Ceremony and Open House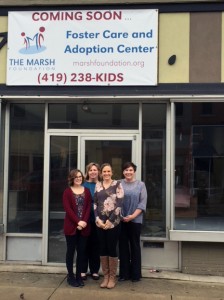 VAN WERT, Ohio – The Marsh Foundation will hold a ribbon cutting and grand opening ceremony for the new Foster Care and Adoption Center on Thursday, April 26 beginning at 11 a.m. An open house will follow until 1 p.m. The building, located at 102 W. Main Street in Van Wert, has been renovated and updated in order to house the new downtown facility. Everyone is welcome to attend the ceremony and tour the Center.
The main level is now equipped to hold office and training space for The Marsh's growing foster care and adoption division. "As our agency continues to grow and serve more children, it became apparent that we needed additional space that was more accessible to the community," said Kim Mullins, executive director of Child and Family Services at The Marsh.
In recent months, The Marsh has been focused on recruiting more foster and adoptive families. The increase in efforts has brought several new families onboard. As a result, more training events are taking place, more treatment meetings are being held and more children are being placed in homes. "It is a great feeling to see our number of dedicated foster and adoptive families growing," said Melissa Snyder, foster care and adoption supervisor. "We are excited to move into this new office space. It will allow us to continue to grow and give us a convenient, accessible location to meet with prospective and current parents."
Formerly Next, the building received a face lift from Alexander & Bebout over the past several weeks. In addition, The Marsh maintenance crews did a great deal of work painting and moving furniture. The new sign, made by Wilkinson Printing in Van Wert, was recently installed.
Over the past year, The Marsh Foster Care Division has grown and added three new full-time positions in the Van Wert community. Currently, the department is seeking a licensed social worker. The Foster Care and Adoption staff is looking forward to seeing you at the Grand Opening on Thursday, April 26 from 11 a.m. - 1 p.m.
The Marsh Foundation is a not-for-profit children's services agency that provides services in a variety of settings. Services include group homes, family foster care (ages 0-17), an intensive treatment program, adoption and independent living. Located in Van Wert, Ohio, the organization's group homes are licensed for up to 36 children ages 7 – 17, offers an on-campus school for grades 2 – 12 and provides a variety of clinical services to group home residents, foster care children and community members.
###
Photo caption: Pictured is The Marsh Foundation's dedicated and caring Foster Care team in front of our new Foster Care and Adoption Center in downtown Van Wert. L to R: Breanna Zipfel, Beth Dye, Melissa Snyder and Pamela Reagan.