Marsh Foundation Ends Year with Holiday Celebration and Graduation
VAN WERT, Ohio – The Marsh Foundation School held its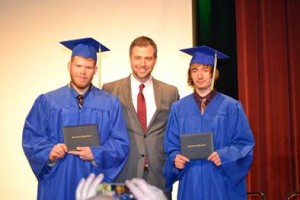 annual holiday celebration before Christmas break. The day included performances by The Marsh School choir as well as 15 individual and group performances. Students were encouraged to choose holiday and winter songs for the audience to enjoy.
In addition to the musical program, a graduation ceremony was held and two students were honored for receiving their high school diplomas.  Zildjian Galliher attended The Marsh for two-and-a-half years and plans to enlist in the military. Xavier Puterbaugh also attended The Marsh for two-and-a-half years and has returned to his home county and enrolled in an independent living program.
Many of the youth's friends and families, as well as community members joined in the celebration. Following the program in the auditorium, everyone in attendance enjoyed a holiday themed luncheon in the cafeteria.
The Marsh Foundation is a not-for-profit children's services agency that provides services in a variety of settings. Services include group homes, family foster care (ages 0-17), an intensive treatment program, adoption and independent living. Located in Van Wert, Ohio, the organization's group homes are licensed for up to 36 children ages 7 – 17, offers an on-campus school for grades 2 – 12 and provides a variety of clinical services to group home residents, foster care children and community members.
###
Photo caption: Principal, Robbie Breese, is pictured with The Marsh Foundation School winter graduates, Xavier Puterbaugh (left) and Zildgian Galliher (right).