Marsh Foundation Wellness Case Manager Making Strides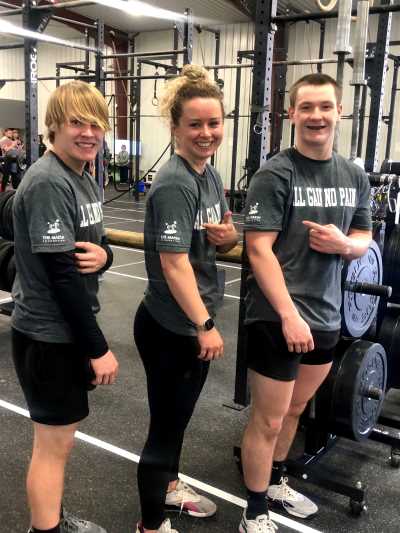 The mission of The Marsh Foundation is to inspire hope, to teach and to care for children and families. By incorporating innovative strategies and services, this mission continues to serve as the foundational component for the continuum of care that The Marsh provides. As The Marsh Foundation continues to evolve to meet the ever-changing needs of children and families, a natural evaluation of treatment needs was recently assessed. To better meet the social-emotional needs of youth receiving clinical services, an interdepartmental position of Wellness Case Manager was developed. Abigail Neville was recently promoted to Wellness Case Manager. Her unique skillset in fitness and equine-assisted learning is currently being utilized to enhance not only the clinical division but the school as well.
Over the past several months, she and two youth trained and prepared for a CrossFit competition. Neville's certification as a CrossFit Level 1 trainer, Bergener Weightlifting Level 1 and in CrossFit Kids was integral in teaching these youth valuable skillsets such as teamwork, perseverance and self-worth. With Neville's guidance, and support, the trio was able to place third at the "Get Tanked" CrossFit competition in Tiffin, Ohio. "The process of preparing for this competition has been a journey in and of itself and I believe that it has given the boys an opportunity to work towards a substantial goal," said Neville. "Reaching this goal has given them a sense of pride and accomplishment which will help them as they face challenges in the future."
Neville takes an individualized approach to teaching youth skills based on their ability and needs. She utilizes various methods and physical activities tailored to specific youths to address issues they may be struggling with. Neville has been able to use her unique skillset to teach youth self-regulation and problem-solving techniques. Additionally, topics Neville works on with the youth are managing emotions, communication, spatial awareness and goal setting.
Over the past year, Neville and the rest of the clinical team have been working closely with The Marsh Foundation School. In this collaborative effort, the two divisions have developed innovative ways to teach the skills above during the school day. Through classroom activities, field trips, community service projects, physical education and other educational forums, this initiative has highlighted the significant growth the youth have made physically, behaviorally and academically. Neville believes, "The cohesiveness of the clinical, residential and school divisions has been better than ever and has offered a new level of support in focusing on our children's individualized goals."
As The Marsh continues to support Neville in the newly implemented Wellness Case Management position, a continued focus on equine assisted learning and fitness will ensue. With the implementation of this new position paired with Neville's expertise this will provide multiple opportunities for growth and expansion to reach more children. "We have experienced significant success through our equine and fitness initiatives," Neville said. "We hope to continue to grow these programs to serve more children in our community."
The Marsh Foundation is a not-for-profit children services agency that provides services for youth and families in a variety of settings. Services include residential care, family foster care (ages 0-17), adoption and independent living services. Located in Van Wert, Ohio, the organization is licensed to provide on-campus services for up to 30 children, offers an on-campus school for grades 2-12, and provides a variety of clinical services to campus residents, foster care children and community members throughout western Ohio.
###
Photo caption: Marsh's Wellness Case Manager Abby Neville joined forces with two youth and placed third in the recent CrossFit "Get Tanked" competition in Tiffin, Ohio.