Marsh Foundation Utilizes Animal Assisted Therapy within Clinical Division
VAN WERT, Ohio – The Marsh Foundation is constantly exploring new methods of therapy and educating its clinicians on ways in which they can better serve their c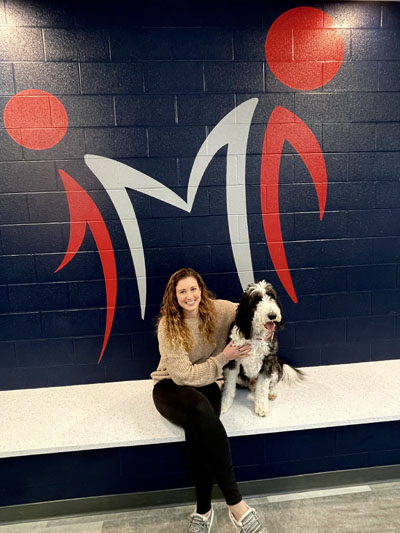 lients. Many of these clients have unique needs that require more innovative approaches to treatment.
Recently, clinician Elspeth McCoy and her dog, became certified in Animal Assisted Therapy. Already a counselor with a master's degree in social work and an LISW license, McCoy felt that incorporating dogs into her work might be an effective way to reach some of the boys she was working with.
Working with traumatized youth can be intense and overwhelming. The goal McCoy has when incorporating animals, is to calm and comfort the youth. "The overall goal is assist kids with becoming more comfortable sharing difficult thoughts and feelings and there has been a lot of research that shows that animals can really aid in this process," McCoy said. "Many of my clients have experienced traumatic events and I have seen how the dogs can be very calming to the kids when processing these things," she added.
Both McCoy and her dogs had to go through classes and a certification process. After multiple training classes, a therapy dog test was administered by Pet Partners to officially certify them. "I also had to do a lot of work with them out in the community to prepare to pass the test," McCoy said.
Another counselor on campus is certified in Equine Assisted Learning and facilitated a therapy program throughout the summer using horses. The clinicians are seeing positive results from the new programming options. "I have seen kids be much more engaged in the session as well as look forward to sessions more knowing they'll get to spend time with a dog," McCoy said. "One of my dogs, Getty, does very well in group counseling with the kids. He works his way around the circle of kids for a full hour stopping and spending time with each one. I have seen that this has helped bring a more calming atmosphere to the groups."
The Marsh Foundation is a not-for-profit children's services agency that provides services for youth
and families in a variety of settings. Services include residential care, family foster care (ages 0-17),
adoption and independent living services. Located in Van Wert, Ohio, the organization is licensed to
provide on-campus services for up to 30 children, offers an on-campus school for grades 2 – 12, and
provides a variety of clinical services to campus residents, foster care children and community
members throughout western Ohio.
###
Photo caption: Counselor Elspeth McCoy is pictured with her dog, Getty, who works with her at The Marsh Foundation providing Animal Assisted Therapy.