Marsh Foundation to Hold Open House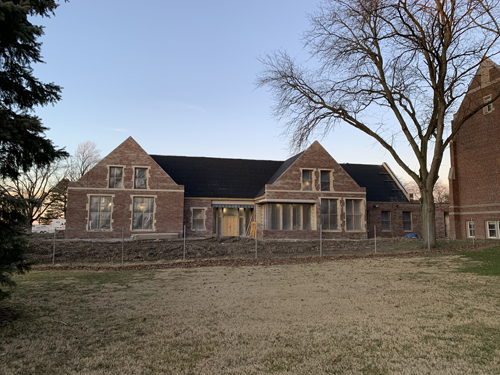 VAN WERT, Ohio – The Marsh Foundation is excited to reveal the new dining and fitness facilities that have been added to campus. On Saturday October 16, an open house will be held that will highlight several important areas of The Marsh campus and history. It will be held from 1 until 6 p.m. and will include tours of the Administration Building, the new gymnasium, Clymer Hall, and a memorial tribute in honor of Ron Bagley at 3 p.m.
According to Jeff Grothouse, executive secretary and treasurer, this is an exciting opportunity to showcase the new areas and facilities at The Marsh Foundation. "We are thrilled to invite the public to tour our new fitness area, dining facilities and gymnasium," he said. "Because of the mutual love and respect between Ron Bagley and The Marsh, this also seems like an ideal time to honor his memory." At 3 p.m., a tribute service for Bagley will be held in the Bagley Auditorium. The day's event will conclude with fellowship and refreshments in the cafeteria.
Campus tours will include the 15,000 square foot addition to the Administration Building which includes a gymnasium, locker rooms, kitchen, dining area and more. Clymer Hall will also be open for tours. As The Marsh transitions to a QRTP facility, Clymer now houses boys, the same as Vance and Marsh Halls. "We are very proud of these facilities and the additional opportunities that they represent for our youth," said Grothouse. "We think the community will be equally as proud."
Bagley dedicated much of his life to The Marsh Foundation. His passing in December, left a large void for those at The Marsh. From 1962 to 1991 he worked at The Marsh as a teacher, principal and director. Most recently, he served as the organization's official historian. The Bagley family will be on hand October 16 to honor their husband, father and grandfather at 3 p.m. "Ron touched numerous lives and was loved by many" Grothouse said. "We are excited for this opportunity to honor him, his life, and legacy."
The public is invited to attend. For more information, please contact Jeff Grothouse at 419.238.1695 ext. 120.
The Marsh Foundation is a not-for-profit children services agency that provides services for youth and families in a variety of settings. Services include residential care, family foster care (ages 0-17), adoption and independent living services. Located in Van Wert, Ohio, the organization is licensed to provide on-campus services for up to 30 children, offers an on-campus school for grades 2 – 12, and provides a variety of clinical services to campus residents, foster care children and community members.
###
Photo Caption: In May of 2019, ground was broken on the newest addition to The Marsh Foundation campus. The 15,000 square foot area holds a kitchen, dining area, gymnasium and more. It will be open to the public on October 16 beginning at 1 p.m. with a ribbon cutting ceremony. Several areas of campus will be open for tour as well as a Ron Bagley tribute at 3 p.m. All are invited.